If you'd been out on a muddy gravel road in North Dakota yesterday, you might have seen a person sprinting through the snow to throw open a car door, retrieve something, and spring back up an elevated platform. That was me, one QSO away from a valid POTA activation, grabbing a battery to keep my radio from dying. I was out at Kelly's Slough National Wildlife Refuge, west of Grand Forks, ND.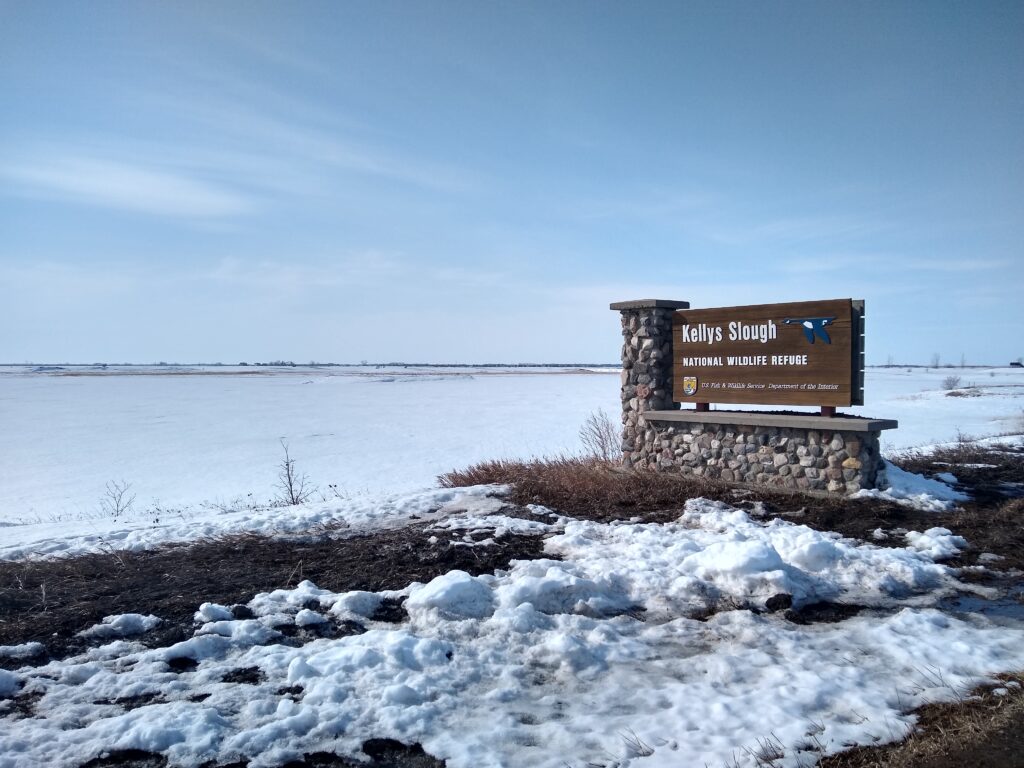 Out of eight activation attempts I've made over the last nine months, this was the third that's been valid. Between operating QRP and SSB, I've had little luck, but my rate is improving. This was my third state, as well, with the improbable first being in Wisconsin, second in my home state of Minnesota, and this over the river into North Dakota.
I don't have much to write, but that won't stop me from writing more than I need to. The activation went well. It was my first that was completely in CW mode, operating at 15 wpm. I don't know how fast people were sending to me, but only one of them was sending fast enough that it took several tries to copy the call. I'm attributing the rest of my multiple "?" replies to QRN and fading. The noise floor seemed pretty low, but I'm bad at looking at my S-meter during portable ops (something to improve!).
I deployed my EFHW antenna from the viewing platform down to a nicely placed bench, with the end weighted by my throw bag weight. If there had been people using the platform or the bench, I would have tramped somewhere else to set up. The antenna was oriented roughly ESE. I operated while sitting on the viewing platform with the late-day sun at my back. It was chilly (~37 degrees F when I left) but not windy.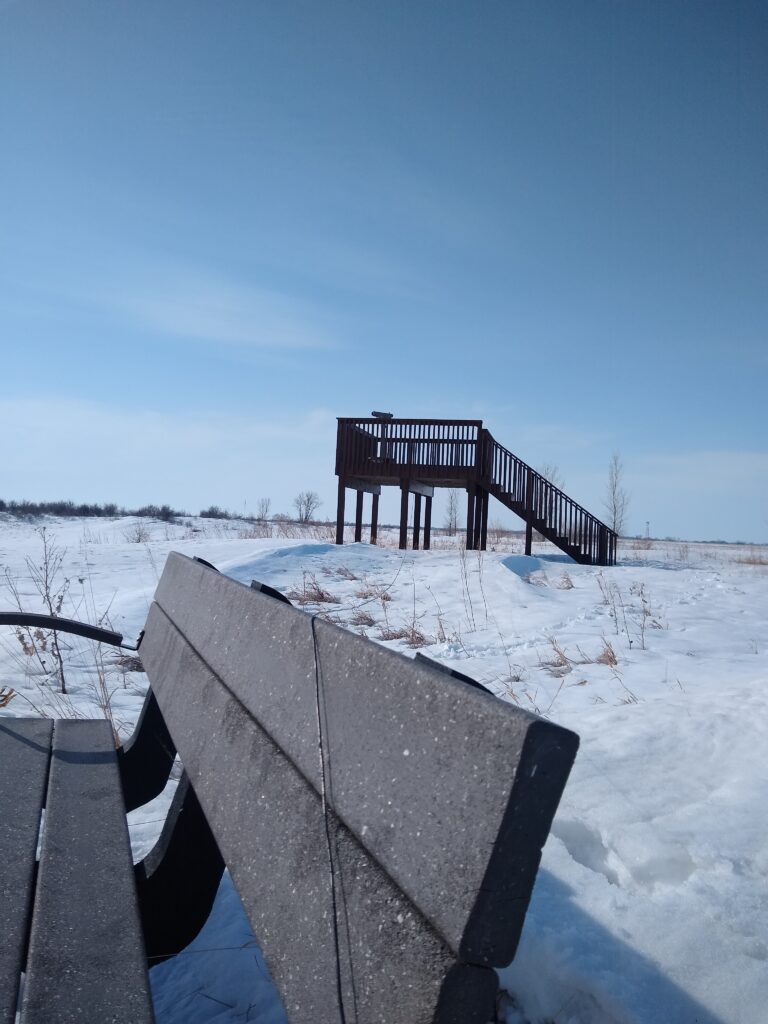 I operated for about 40 minutes and had 14 loggable QSOs, with a few that weren't completed because of fading and one where I seem to have badly botched copying the callsign, enough that I can't figure out who it actually was. I am sorry for that!
My fingers got cold over the operating period, but operating the paddler without gloves was better than the last time I tried to operate with gloves. Thin gloves may have helped, but I didn't lose feeling–which is weird, after having to worry about freezing fingers this whole winter!
You can see the the photo below that I ran my Xiegu X6100 with a CW Morse paddle. The screen is on, although it doesn't show in the photo. Just a regular lead acid battery for backup. Nothing super special here. I noticed that the sidetone sound improved when I added the external battery–it seemed to get less harsh, but I'm not sure why and should run some tests.
About that battery–I made nine contacts and suddenly got a message on the rig that the internal battery was low and it would shut down in 90 seconds. I attribute this to the cold temps, since it was fully charged when I started. Hence my sprint back to the vehicle for the external battery. I made it back in time, and finished out the activation at 10W rather than the 5W I started with (because why not?).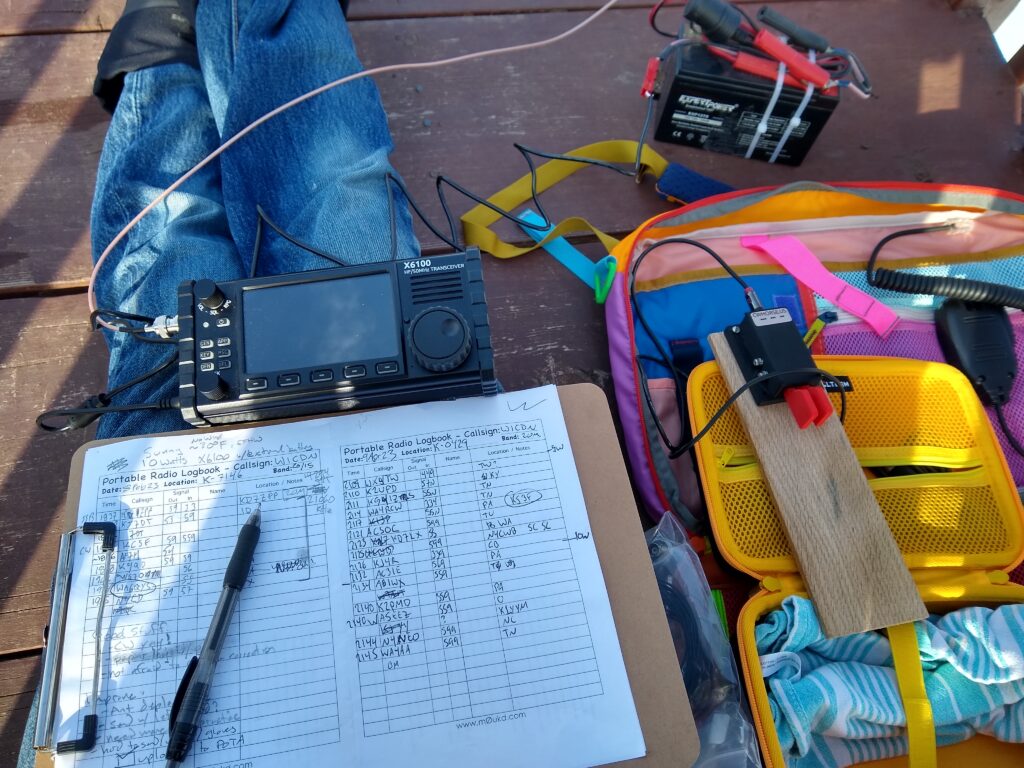 Things that went well:
Weather was good
Antenna setup was easy and seemed to work well
First CW-only activation!
Got out of the house and did something for myself
Things that could be improved:
Need more practice copying everything after the signal report. I'm OK with state abbreviations, but lousy if there are other comments than "TU" and "73"

Corollary to this, I probably ended up rude to some folks because I didn't copy what they sent.

Probably could have tried some P2P in the time I had, but I really, really dislike fiddling with the POTA app to look at other spots while I'm activating
I didn't update the time on the rig after DST started! Times submitted are recorded as one hour earlier than they actually occurred.
I seem to have reached people in the E and SE, with one station on the west coast.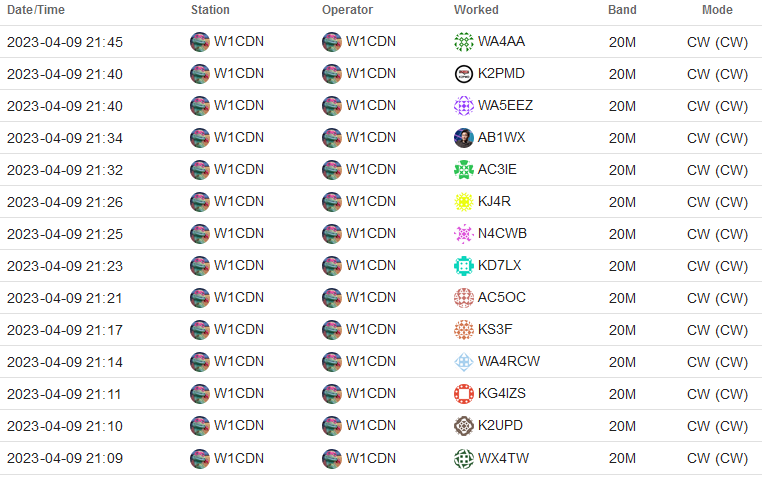 Thanks for reading, and hopefully more reports to come!
P.S., here's who spotted me on RBN: